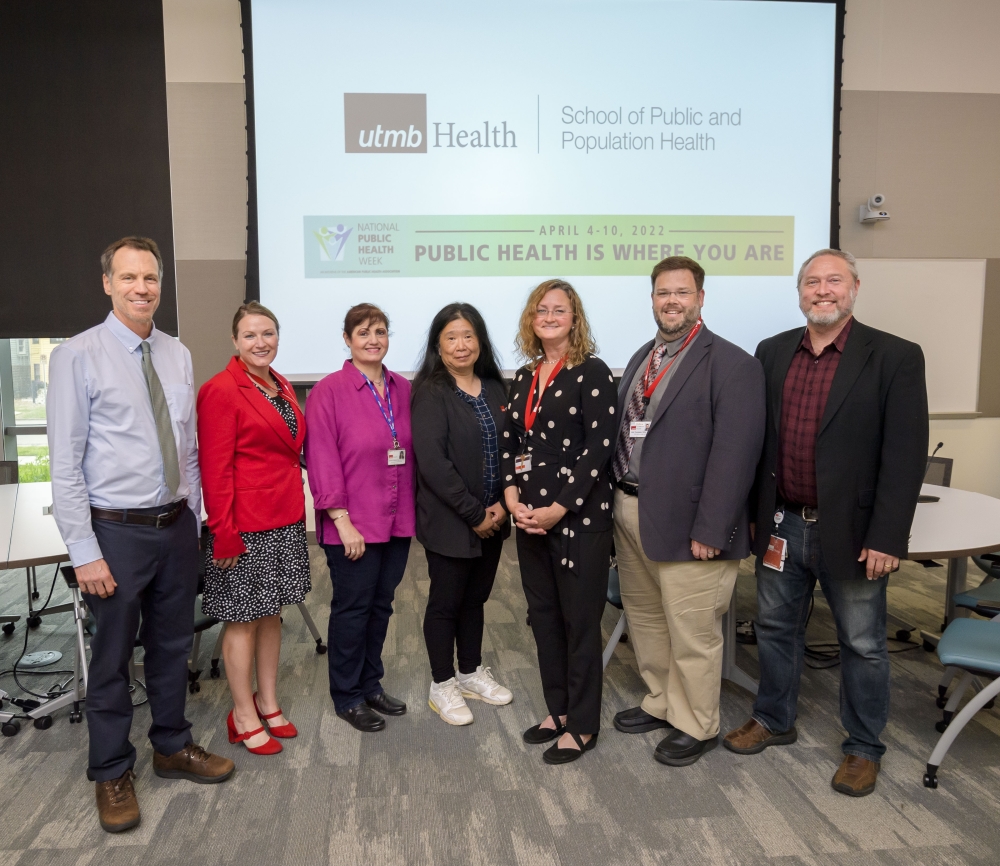 The UTMB School of Public and Population Health prepares the next generation of health professionals
The School of Public and Population Health
at the UTMB prepares health professionals for pandemics and improves the general well-being of the community.
Dr. M. Kristen Peek leads the Department of Population Health and Health Disparities at UTMB as Acting Dean. Peek has been at the UTMB for over 20 years and has held educational leadership positions for the past seven years.
"I am absolutely thrilled to have the opportunity to start a new school and serve as Dean," Peek said. "We have a lot of big things ahead of us, and it's a very exciting time."
While the UTMB has run an extensive public health program for more than 20 years, this expansion is partly in response to the COVID-19 pandemic, Peek said.
"The pandemic has taught us many lessons about our current public health infrastructure, including how essential our next generation of public health professionals, scientists, and academics will be in meeting the needs of ensuring a healthy Texas. and beyond," she said.
Texas, along with other states, faces a critical shortage of public health professionals. UTMB is educating more experts in this field, said Associate Dean for Student Affairs Dr. John Prochaska.
"Public health personnel are understaffed," he said. "We have incredible people doing incredible work in public health. As we have learned from the pandemic, there is a great need for the profession, for people trained in the different sciences and the practice of public health" .
Nearly one in three public health workers say they plan to leave their organization in the next year, and almost half plan to leave or retire in the next five years, according to a survey by the Foundation. of Beaumont.
"There's a growing demand and just global recognition of the importance of public health practice," Prochaska said. "There's a bubble in terms of upcoming demand and vacancies due to retirements or people changing careers."
Although there are still many opportunities ahead, the school offers five primary education programs, providing opportunities for graduate students, physicians, and medical students. And the school plans to expand with new masters.
"We are working on a master of science in biostatistics," Prochaska said. "We have our current PhD program in Population Health, Science, Rehabilitation Sciences, and other programs that also continue to grow. We look forward to meeting the needs of the state and beyond. ."
UTMB's School of Population and Public Health stands out from other schools in the United States as a leader in health equity research and education.
"All of our teachers and all of our courses focus on some aspect of health equity," Peek said. "We are really united in this aspect. In addition, we have unique programs, such as our Bioethics and Health Humanities training programs and our Aerospace Medicine training programs. We are building an educational program on global health and emerging diseases. With our Galveston National Laboratory on campus, we have an incredible opportunity to connect public health with basic science in emerging diseases. »
Students studying at the School of Population and Public Health can go on to find jobs in a wide variety of careers, Prochaska said.
"We have graduates who go on to work with the FDA, environmental agencies, and nonprofit organizations," he said. "There's a whole range of opportunity in public health. It's not just about checking for viruses and giving injections, although that's a very important role…it's not just limited to that."
It includes so much more, from baby checkups to diabetes tests to encouraging people to be more active.
"Public health research, scholarship and practice promote disease and injury prevention, healthy lifestyles and environments, but public health also actively responds to crises, such as, of course, the novel coronavirus" , Peek said. "SPPH's vision is 'health equity for all', and the mission is to lead innovative public health education, translational research, and evidence-based practice and policy through authentic collaborations in the region. of the Gulf Coast, Texas and around the world."
Martina Michael is pursuing a Masters of Public Health in Epidemiology at the school. Among Michael's favorite aspects of the school are the small class sizes and the faculty's focus on the students.
"UTMB has a very diverse faculty and apart from that [a few] main things that you don't find in other universities," said Michael. "Your classmates will also be very diverse.
Due to the school's small class sizes, Michael said students felt their voices were heard and mattered at school.
"You can actually contact the faculty, and they won't take a week to respond," she said. "Faculty is able to engage more with students due to small class sizes."
future students can learn more about the School of Population and Public Health website.
The above story was produced by the Community Impact storytelling team with information provided solely by the local business as part of their purchase of "sponsored content" through our advertising team. Our promise of integrity to our readers is to clearly identify all CI Storytelling posts so that they are separated from the content decided, researched and written by our journalism department.