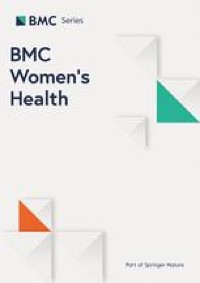 Risks and Perception of Noncommunicable Diseases and Health Promotion Behaviors of Middle-Aged Immigrant Women in Japan: A Qualitative Exploratory Study | BMC Women's Health
This exploratory study aimed to clarify the perceived risks of NCDs and the health promoting behaviors of middle-aged immigrant women in Japan.
Perceptions of NCD risk and health promotion behaviors
Notably, just under a third of the immigrant women participating in this study were at risk for hypertension, a BMI> 30, and a waist circumference> 80 cm as an NCD. Chronic illness was also observed in a third of the immigrant participants, and some were taking medication regularly.
Interestingly, 80% of study participants had a check-up in the previous year, which is higher than the rate of 53% of the Japanese population who received a check-up. [28]. In addition, 49% of the study participants were screened for breast cancer, which is slightly higher than the breast cancer screening rate of 36.9% of the Japanese population. Unfortunately, only 34.3% of study participants received cervical cancer screening, which is almost the same as the cervical cancer screening rate of 33.7%. of the Japanese population. [29]. Interestingly, these screening rates are different from studies in other countries, which reported lower uptake of cancer screening by immigrant women than by non-immigrant women. [30,31,32].
There may be several reasons for such differences. The first reason may be sample bias. Our sample size was small, and many participants have been in Japan for some time, implying that they have become familiar with health services in Japan. In addition, the participants were from certain communities such as a church or an immigrant group, which provided them with support to engage in health promotion activities. The second reason is the low adherence of the Japanese population to cancer screening. Nonetheless, even though the uptake rates for breast and cervical cancer screens among immigrant women were similar or even higher than those of the Japanese population, the rates are still lower than those of other developed countries. [33]. The specific reasons for the low uptake rates for cancer screening in Japan remain to be elucidated. One possible reason is that Japan's universal health insurance system has made it possible for all residents, including immigrants, to have access to reasonable health services at all times. Interestingly, even though immigrant women achieved the same uptake rate for cancer screening, our study showed low satisfaction with checkups and cancer screenings, which ultimately worsened the negative behavior. of convenience in pursuing health promotion activities.
Perception of NCDs and health promotion behaviors
As previously indicated, according to the concepts of the Health Belief Model, behaviors aimed at preventing disease are related to the following 6 concepts: perceived susceptibility, perceived gravity, perceived benefits, perceived barrier, signal to action, and self-efficacy [34]. In this current study, immigrant women recognized the danger of NCDs and may have feared having one that indicated their recognition of the susceptibility and severity of NCDs, and potentially increased their motivation for health promoting behaviors. . [35]. However, some immigrant women did not understand the benefits of health promoting behaviors such as going to checkups or attending cancer screenings. In addition, obstacles such as lack of method knowledge and language difficulties when attending Japanese health services most likely contributed to their lack of development of effective health promotion behaviors.
The barriers described by immigrant women were similar to those in previous studies such as the language barrier [35, 36], obstacles related to the health system [35, 36], and the lack of knowledge [37, 36]. Invitations to check-ups or cancer screenings, and suggestions from family and friends were good clues to action. Monolingualism in the Japanese health service was not only a barrier to health promotion, but also a potential barrier to participants' self-efficacy, as immigrant women were unable to express themselves, to pose questions. questions, understand health information and make decisions about their own health. According to the health belief model, in order for immigrant women to adopt health promoting behaviors to prevent NCDs (outcome), they must believe that the health promoting behaviors will be beneficial to their health (outcome expectation). ) and also that they are able to adopt health promotion behaviors (waiting efficiency) [35]. In addition, some immigrant women believed that NCDs were preventable, indicating an 'internal locus of control'. On the other hand, some immigrant women felt that NCDs were inevitable and uncontrollable, indicating an 'external locus of control' [38].
Improving the health promotion of immigrant women begins by facilitating their understanding of the benefits of health promotion. The benefits of health promotion should be offered in a context that immigrant women could understand. In terms of effective interventions in promoting cancer screening among immigrants, previous studies [39,40,41] noted that appropriate socio-cultural interventions must be developed. Health care providers should recognize that immigrant women may have different beliefs and values [42]. Due to the deleterious effects of language and knowledge barriers, there is an urgent need to develop multilingual health services in Japan. Interpreters with the correct technique and in the right environment to facilitate high quality communication based on a relationship of trust guaranteeing confidentiality are required [43]. In addition, community-based participatory communication interventions are recommended for vulnerable populations such as immigrants. [44].
Limits
This exploratory study evaluated only 35 immigrant women from an urban and rural area of ​​Japan. Since the number of participants was small and the majority of the women were Filipino, the responses were likely influenced by that culture. While focus groups provide rich data, they can also make it more difficult for some participants to express dissenting opinions. In this study, every effort has been made to support all points of view. In addition, immigrant women from other countries who do not speak English or Japanese may have different health promotion needs. Despite the small sample size and the majority of participants coming from the Philippines, our results have some transferability given the similarities in results from other studies, especially language barriers within the health system. In addition, since little was known about the risk and perception of NCDs among immigrant women in Japan, the design of the scoping study was chosen. A study using focus groups is not intended to generalize [24] Although the health promotion needs of participants in this study may not accurately reflect those of all middle-aged immigrant women in Japan, these reported needs provide a good basis for identifying other relevant areas of research. .