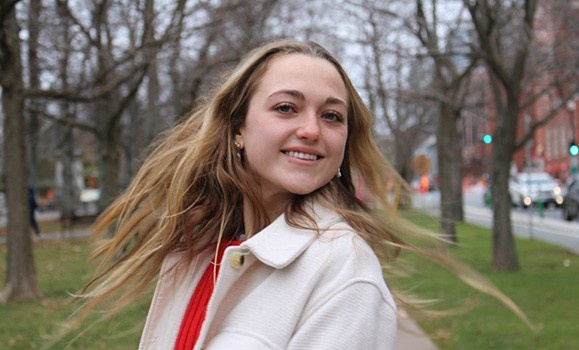 "Recovery, perseverance and dynamism": a health promotion graduate shares her difficulties with mental health while completing her diploma – Faculty of Health
»Go to main news
"Recovery, perseverance and dynamism": health promotion graduate shares struggles with mental health while graduating
posted by Terry murray-arnold on June 22, 2021 in News
Catherine Armor will continue her studies at Dal in the MA Health Promotion program.
Convocation Q&A: Catherine Armor

Congratulations to all of our 2021 Dal Health Classes! To celebrate the Spring 2021 convocation, we chatted with students from Dal Health.
Name: Catherine Armor
Pronouns: she / she
Diploma: BSc in health promotion (with distinction)
Where you are from: Kemptville, Ontario
How important is it to you to receive this diploma?
I suffered from a really debilitating mental illness around halfway through my program and there was a time when I really didn't see myself finishing my studies. This accomplishment is important to my family, friends, and I because it symbolizes recovery, persistence, and motivation – my ability to do difficult things. During my mental health challenges, this degree served as a foundation for me and gave me a tangible goal to focus on and work on to achieve it.
What were the highlights of your graduation?
There are so many experiences and milestones during my graduation that made my time enjoyable. Exploring the beautiful East Coast and living with friends tops the charts, but my biggest moment came last school year. In September 2020, with the help of amazing friends, I launched the Ninety Percent Society (NPS). NPS is a ratified Dalhousie company dedicated to supporting students living with eating disorders. Over the past year, we have cultivated a strong community and have had a great impact in de-stigmatizing mental illness in the student body. If you want to join this school year, contact us at [email protected]
What will you miss during your stay in Dal?
While I am continuing my graduate studies at Dalhousie this fall, there are definitely aspects of my undergraduate experience that simply cannot be matched! I am extremely proud of my friends that I have made over the past four years. Many of them will be spread across the country (and the world!) As they enter this new chapter in their lives. More than anything, I will miss meeting friends on campus, studying together over coffee, and tearing up the dance floor at the SAHHPer Ball.
What was your journey to Dal and this program?
I grew up in a very small town in Ontario and knew I wanted to pursue post-secondary education far away. My older brother (graduating in 2020) chose Dalhousie which immediately made me think of the same when I applied to schools. My choice to study health promotion was not well thought out to be honest. I was interested in health, working with people and not having to take chemistry lessons. I figured I would give HPRO a try and I could always switch up if I needed to. After a few weeks of studying, with the most supportive teachers and classmates, I knew I had made the right decision – I haven't looked back since!
What topics / research / work did you become passionate about during your studies?
Since the beginning of my studies, I have been interested in topics related to harm reduction, mental health and housing. In my third year, I decided to take on the Honors challenge – to research and write a thesis. I worked alongside Dr Jacquie Gahagan to produce a thesis that explored how the housing experiences of Canadian LGBT baby boomers can contribute to social isolation. More recently, I became passionate about defending eating disorders and accessing quality mental health treatment in Canada. As I continue my studies, this is a subject that I will focus on a lot.
How did COVID-19 impact you during your studies?
The pandemic started in Nova Scotia just as I was preparing to present my honors thesis proposal at the annual Crossroads Interdisciplinary Health Research Conference. My mother was visiting this weekend, and before our eyes the world had changed completely. COVID-19 certainly uprooted the way I imagined myself finishing my first cycle, but it also opened up opportunities that I wouldn't have had otherwise. During my last semester, I did a remote internship from Halifax with the Hopewell Eating Disorder Support Center; a non-profit organization based in Ottawa, ON.
What's the next step for you?
This summer, I am honored to work with the MacEachen Institute for Public Policy and Governance on a project in partnership with the Canadian Association of Retired Persons (CARP). In the fall, I will continue my academic career with Dal's MA Health Promotion Program. I look forward to completing research that will improve Canadians' access to clinical treatment for eating disorders, particularly in Nova Scotia. Outside of work and school, I'll be making time for travel and adventure with my partner, Logan!