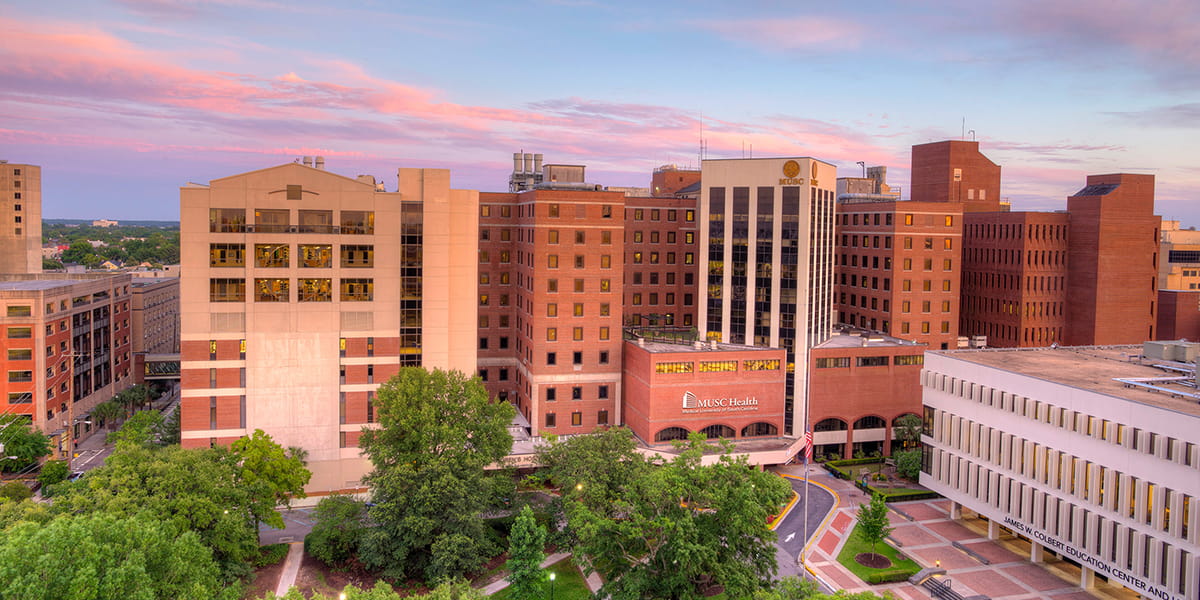 Office of Health Promotion | MUSK
In striving to become the healthiest college medical campus in America and in alignment with the MUSC mission and the Imagine 2020 strategic plan, the Office of Health Promotion (OHP) provides dynamic and visionary leadership for MUSC by establishing a wellness framework for the entire MUSC company. OHP seeks to reach out to all departments to lead an interdisciplinary effort and create a comprehensive wellness initiative and culture of wellness that will improve the health of the MUSC community and serve as a model for other organizations.
Mission statement: Provide access to information, resources and support to foster a movement towards a culture of wellness within the internal and external community.
Vision Statement: Create a culture of wellness to improve the health of the lives we touch.
As a Designated Center of Excellence by the South Carolina Hospital Association Working Well Initiative, MUSC's Office of Health Promotion provides leadership in our community and across the state to create healthy work environments with a positive impact on the health and well-being of a significant part of our state. population. MUSC has achieved and maintained Gold status in all four pillars of the Working Well program for the past three years. Our Working Well successes have also been recognized by Prevention Partners with the Hospital Prevention Excellence Award in 2013 and Agent of Change recognition in 2014.
In addition to serving as a resource for healthy hospitals, we impact the health of businesses in the Charleston area through the development of the Charleston Healthy Business Challenge and statewide through the service of Dr. Johnson on the State SCale Down Obesity Plan Worksite Advisory Board. Nationally, MUSC became a founding member of the National Consortium for Building Healthy Academic Communities, a transformational collaboration to advance higher education best practices and standards in health and wellness whose mission is to equip academic institutions with evidence-based strategies and resources to improve population health and the well-being of faculty, staff, students, alumni, and the communities they serve. Dr. Johnson currently sits on the BHAC Advisory Board.
Located at 17 Ehrhardt Street, Suite 5, OHP is home to MUSC Employee Wellness, MUSC Urban Farm and Sodexo Wellness Dietitian at MUSC and serves as an organization-wide resource for multidisciplinary health promotion and wellness programs and initiatives. -to be. OHP's full-time staff includes Dr. Susan Johnson, Director of Health Promotion, Kaitlin DaPore, Wellness Coordinator, and Debbie Petitpain, RD, Wellness Dietitian.
About staff
Susan L. Johnson, Ph.D.
Dr. Susan Johnson is Director of Health Promotion and Assistant Professor of Graduate Studies at the Health Professions College. In her role at MUSC, Dr. Johnson leads and manages system-wide initiatives related to organizational wellness and provides leadership in the development and implementation of a comprehensive and collaborative approach to promoting health among students, employees, visitors and the external community. Dr. Johnson has made numerous presentations at the local, state, and national levels, is active in community and professional activities, and is an elected and appointed leader in multiple community and state organizations and projects. She earned her undergraduate degree at UNC Charlotte, a master's degree at the Citadel, and a Ph.D. from the University of South Carolina. Dr Johnson was recently named Smoke Free Advocate of the Year by the Smoke Free Lowcountry Coalition, Rising Star of Influential Women in Business by the Charleston Regional Business Journal, Prevention Partners Agent of Change and 2015 Health Influencer by the Charleston Post and Courier. His work at MUSC has also been recognized by multiple prevention awards and publications, both locally and nationally.
Kaitlin DaPore, Wellness Coordinator, NBC-HWC
Kaitlin DaPore brings nearly a decade of leadership experience in the wellness community to the Medical University of South Carolina, as one of the only health and wellness coaches certified by the state board of directors, recognized by the National Board of Medical Examiners. Kaitlin completed her training at Emory University and is a member of the Institute of Coaching at McLean Hospital, an affiliate of Harvard Medical School, the American College of Sports Medicine, and the American College of Lifestyle Medicine. . Additionally, Kaitlin has experience leading non-profit organizations addressing the needs of patients, healthcare providers and entire communities to measurably improve health outcomes and behavioral lifestyle factors. . In her role at MUSC, she strives to embed wellness into the culture through the implementation of a wide variety of health promotion programs. Kaitlin is also the program coordinator for the MUSC Urban Farm and is a steering member of the farm's steering committee, ensuring her unique role of connecting nutrition to health outcomes through community engagement.
Laura Nance, Wellness Dietitian, MA, RDN/LD, CDCES
Laura Nance brings over 15 years of experience as a Registered Dietitian and Diabetes Care Specialist to MUSC's Office of Health Promotion. Laura has an extremely diverse portfolio of leadership and management experience across clinical and community platforms. In her role with the Office of Health Promotion, Laura seeks to educate and empower all members of the MUSC family and the community at large to optimize their well-being through healthy eating. Additionally, Laura is passionate about serving her profession through education, sustainability and volunteerism and oversees a variety of collaborative efforts aimed at addressing the nutritional and food security needs of the community at MUSC and beyond. , including the Kids Eat Free program at MUSC as well as the MUSC eats pediatric food pharmacy program.