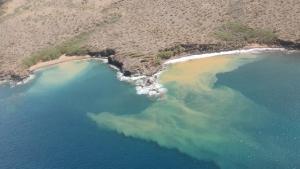 Mānoa: New One Health Course Links Animal, Human and Environmental Interactions
University of Hawaii at Mānoa
Contact:
Although much remains unknown about the origin of the COVID-19 pandemic, it likely involved the transmission of a coronavirus from a bat or other species to humans. Diseases such as COVID-19 illustrate how human health and animal health are often linked.
A new undergraduate public health course from the University of Hawai'i at Mānoa, titled "Introduction to One Health," aims to teach students about the myriad animal-human-environment interactions occurring around the world as well than in Hawaiʻi, which could harm the health of humans and the planet now and in the future.
"In the future, citizens of the world will need to understand the links between animal health, human health and climate change," said Catherine Pirkle, associate professor at the Office of Public Health Studies (OPHS), who teaches the course. "This course aims to equip students with the knowledge they will need to help address the complex challenges facing our world."
Critical Connections
Ministries of health and many public health organizations, including the World Health Organization and the Centers for Disease Control and Prevention, recognize the importance of the One Health concept. Typically, a health course incorporates lessons in veterinary medicine, public health, health policy, biology, ecology, climatology, and sociology.
UH students enrolled in the course will take broad-themed modules. In a module on water sources and contamination, students learn how lead in drinking water in Flint, Michigan has impacted children's health, and how Hawaiian monk seals develop infections from contaminated sewage entering the Pacific. In a module on fossil fuels, classroom activities cover the impacts of global warming and rising seas on coastal indigenous peoples, as well as coral bleaching events.
"The goal is for students to learn to see the connections between all of these disparate impacts, and also learn about the critical policy decisions behind events that change our environment," Pirkle said. The course is taught asynchronously, which means students can work at their own pace to complete assignments on time while engaging in group discussions via the course forum.
Regional relevance
Topics covered are particularly relevant to Hawaiʻi and the Pacific Rim. This course is part of an interdisciplinary and cross-departmental collaboration to support undergraduate student engagement in unique health concepts in research and training funded by a recent competition. This project brings together the strengths of the OPHS, the John A. Burns School of Medicine (JABSOM), the College of Tropical Agriculture and Human Resources and the School of Ocean and Earth Science and Technology.
"The vast majority of emerging infectious diseases are zoonotic, which means they start with the transmission of a microbe from animals to humans," said Richard Yanagiharaprofessor of pediatrics at JABSOM and responsible for interdepartmental collaboration.
"Human encroachment on animal habitats and human consumption of wild animals contribute to the emergence of infectious diseases," Yanagihara said. "It is imperative to better understand the connectivity between humans, animals and the environment in order to develop more effective solutions to mitigate and prevent infectious diseases with epidemic potential."
"These issues, and our collaborations, become increasingly urgent in the time of COVID-19," said Sentell teat, president and director of the OPHS. "We are excited about this course and to continue to work together to expand collaborative research and teaching in One Health across the strengths of UH."
The inaugural One Health course is open to undergraduate and graduate students of all majors, and the next course will be offered in 2021. Interested students can contact Pirkle at [email protected] for more information.
Photo caption: This aerial photo shows a sediment plume in Hawaii, which can damage corals. Associate Professor Catherine Pirkle shares photos with her One Health students to illustrate the effects of human activity on the oceans. Photo credit: Catherine Pirkle
###
The Office of Public Health Studies at the University of Hawai'i at Mānoa trains public health professionals and conducts research that benefits the people of Hawai'i and the Asia-Pacific region. OPHS is fully accredited by the Council on Public Health Education and is part of the Myron B. Thompson School of Social Work. OPHS faculty members are experts in areas such as infectious disease, chronic disease, genetics, environmental impacts on health, Indigenous health, and health promotion.