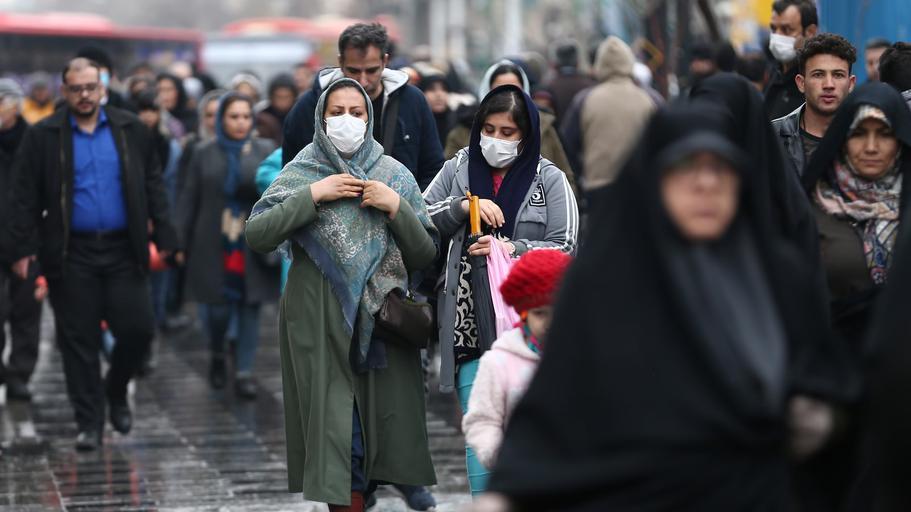 Health Ministry confirms sixth wave of coronavirus in Iran
The Ministry of Health and Medical Education has officially announced that a "sixth wave" of coronavirus infections is underway in Iran. Omicron has now become the dominant variant: something officials had previously claimed would not happen because Iranians had "more antibodies" after the vaccine campaign started late.
The head of Iran's Food and Drug Administration recently claimed that the country would stop importing foreign-made vaccines as domestic manufacturing had accelerated. Schools and universities have reopened and the government has unveiled a so-called "smart" management plan that is supposed to give vaccinated Iranians staggered and privileged access to other public spaces.
Now parts of the map are once again put on red alert, with warnings of an exponential increase in hospital patients. A member of the National Coronavirus Taskforce's scientific committee told IranWire that Omicron had "undone" the effect of the first and second doses of the Covid-19 vaccine, adding, "We are now back to square one."
Omicron's high transmissibility is fueling anti-vax sentiment in Iran, as many say it shows injections are unnecessary, at a time when the Ministry of Health and other bodies are asking as many people as possible to receive a third dose. So far, around 13 million people, or 17% of the eligible population, have received a third shot, but around six million have still not accepted their offer of a first.
Many of those against the vaccine, the official said, were people with "big platforms" and unscientific opinions. But other people have been hesitant to accept a vaccine developed and manufactured in Iran and have instead sought a World Health Organization-approved vaccine like Pfizer or AstraZeneca.
Confusion has reigned since early January over whether Iran is still importing foreign-made vaccines. Many people who received a first dose of AstraZeneca, Sinopharm or Sputnik were unable to access another. In the meantime, the government has encouraged people to instead accept vaccines produced in the country or those made in collaboration with countries like Cuba.
Recently, the executive headquarters of the parastatal conglomerate owned by the Supreme Leader of the Imam's Directive (Setad) conducted an 'investigation' into the safety and effectiveness of its own vaccine, Barekat, compared to Sinopharm, Sputnik and AstraZeneca. . The results, widely reported in Iran's state-controlled media, claimed that Barekat was most effective in preventing hospitalization or death from Covid-19 as well as person-to-person transmission of the virus. It is unlikely that he did much to allay the concerns of skeptics.
Contradiction of encouragement to receive a third dose versus reopening
The national coronavirus task force member also told IranWire that in addition to receiving a booster shot, people should "take the protocols seriously": "Masks should be taken seriously, businesses and citizens must observe social distancing and traffic control from one city to another. next needs to be implemented correctly so that we can get through the spike caused by the Omicron variant.
The warning comes just as the Iranian government was about to implement its "smart" plan allowing fully vaccinated Iranians to use a QR code on their phones to access government buildings, restaurants, places of entertainment and other shared spaces. The call for all citizens to receive a third vaccine has caused confusion over who counts as fully vaccinated. Meanwhile, public life in much of Iran is back to normal.
Mohammad Reza Mahboobfar, a health researcher living in Tehran, told IranWire: "We see that the use of brands is dropping to its lowest level; even if people wear a mask it's symbolic and they don't take the regulations seriously. Shops and workspaces close doors and windows due to cold and snow; that is, there is no adequate ventilation. From what I see, Omicron could absolutely turn into a disaster.
Related coverage:
Iran's 'smart' Covid pass system blighted by lack of resources
Ahvaz and Qom hit by Spike in Omicron cases
Imports of vaccines are 'banned' in Iran, says drug administration boss
Health minister blames Iran's first vaccine crisis on 'political pressure'
Iran struggles to register Omicron cases amid shortage of test kits
Iran's ambassador to Yemen dies of coronavirus
Iran's new 'smart' project offers vaccine QR codes for offices and supermarkets
Omicron fears the rise of Covid-19 in Iranian schools
Omicron variant looms but Iran has no way to detect it
Iran flip-flops against domestic flu