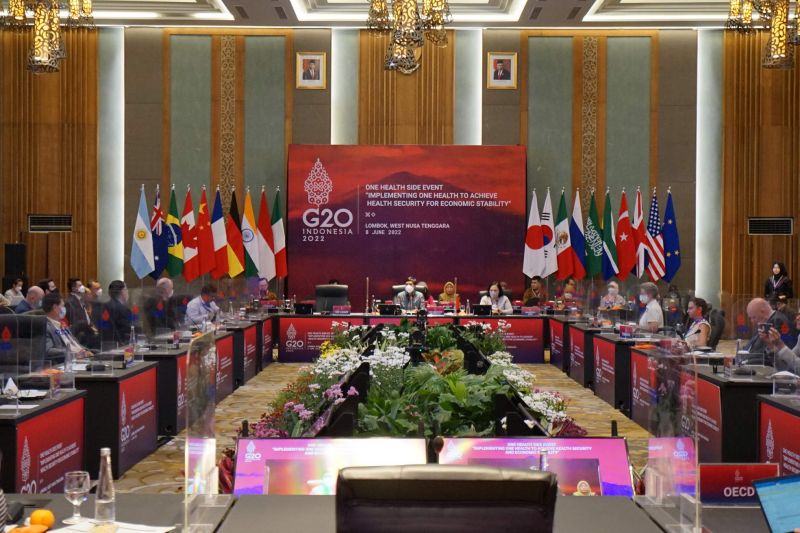 FAO pushes to implement One Health to prevent zoonotic diseases
It is essential to include One Health as part of the global health architecture, which is one of the priorities of the Indonesian G20 Presidency
Jakarta (ANTARA) – The Food and Agriculture Organization of the United Nations (FAO) has urged all countries to implement the One Health approach to prevent, detect and control emerging zoonotic diseases.
Interactions at the human-animal-environment interface underlie disease emergence, so a One Health approach is paramount to prevent, detect and control emerging zoonotic diseases, FAO noted in a statement received here on Friday. .
FAO Chief Veterinarian Keith Sumption explained that One Health is about protecting the lives of people, plants and animals, and ecosystems by recognizing how the health of each part is linked.
"We will not prevent future pandemics without One Health, because One Health is the critical component in preventing and managing the fallout from animals to humans," Sumption said at the G20 One Health side event. titled "Implementing One Health to Ensure Health Security for Economic Stability". ."
He noted that since community health has ripple effects on livelihoods, ensuring the application of the One Health approach at global, regional and national levels is essential to progress in the fight against zoonotic diseases, fight antimicrobial resistance (AMR) and ensure safe and nutritious food. food for everyone.
"It is vital to include One Health as part of the global health architecture, which is one of the priorities of Indonesia's G20 Presidency," he concluded.
On this occasion, Indonesian Health Minister Budi Gunadi Sadikin stressed the urgent need for international collaboration to sustainably prevent and contain future pandemics through One Health as a long-term, viable and sustainable approach.
"There is no health without One Health," he said in his opening remarks.
The COVID-19 pandemic has shown that previously unknown diseases can surface at any time, threatening the health, well-being and economies of all societies.
In supporting the restoration of global health security, G20 member countries reflected on the Lombok One Health Brief which sets out 10 recommendations to strengthen and mainstream the One Health approach at all levels.
The brief urges the G20 to adopt the Joint One Health Action Plan (JPA) developed by Quadripartite – FAO, World Organization for Animal Health (WOAH), World Health Organization (WHO) and United Nations Program for the Environment (UNEP) – – as an operational framework to achieve national goals and priorities for One Health interventions.
Other recommendations are to mainstream One Health and help create an enabling environment for its implementation by mobilizing resources, partnerships and sustained investments, as well as facilitating knowledge sharing and capacity building. OneHealth.
As G20 Chair this year, Indonesia is in a strategic position and opportunity to share One Health best practices and knowledge with the rest of the world to transform the global health architecture while contributing to growth and to long-term economic stability.
The United States Agency for International Development (USAID) has worked with the Indonesian government for more than five decades to strengthen environmental sustainability, economic growth, and health.
FAO, with the support of USAID, will continue to support Indonesia in the implementation of One Health in the areas of food safety and security, sustainable agriculture, antimicrobial resistance (AMR ), nutrition, animal and plant health, fisheries and livelihoods.
Related news: G20 efforts to tackle the threat of zoonotic diseases
Related News: ASEAN and China strengthen collaboration to prevent zoonotic diseases
Related News: Cooperation with scientists is crucial to realize One Health:T20 Co-Chair