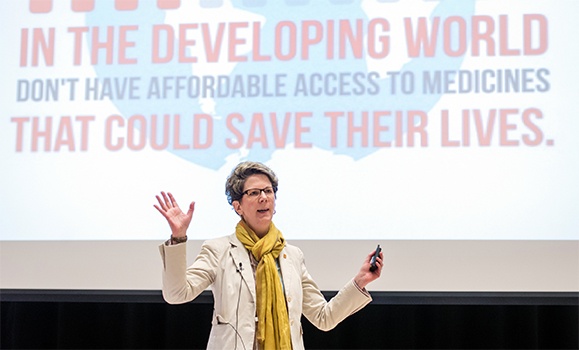 Dal's renewed Healthy Populations Institute addresses the challenges of health promotion and disease prevention – Dal News
More than 100 health researchers, students, professionals and community members gathered on May 17 to celebrate the launch of Dalhousie's Healthy Populations Institute (HPI).
Hosted by Scientific Director Lois Jackson, the event showcased the renewed vision of the former Atlantic Health Promotion Research Centre. Established in 1993, the center aimed to create and connect a community of researchers focused on issues of health promotion and disease prevention in Atlantic Canada.
Fast forward 20 years and the institute has grown to include academic members from a wide variety of health disciplines and professions, partnerships with a growing number of stakeholders from across Canada and around the world, and projects addressing disease and disease prevention and health promotion issues locally and globally.
"The transition to HPI is about recognizing the significant growth we've experienced as a research institute and redefining our vision of who we are and what we aim to accomplish," says Jackson. "We reaffirm our commitment to research that can make a real difference in improving the health and well-being of individuals and communities – in Nova Scotia, Atlantic Canada and beyond.
"The launch of HPI is the culmination of a collaborative, forward-looking review of our accomplishments and opportunities," said Managing Director Maureen Summers. "We are moving forward with a clear research mandate and objectives.
An expanded scope
HPI has defined four areas of focus around understanding and promoting the conditions necessary for population health: Indigenous health and well-being, youth and healthy aging, health of marginalized populations and implementation science.
"By focusing on creating population-level impacts, IPS can have a measurable impact on reducing health inequalities," says Will Webster, Dean of the Faculty of Health Professions. "This refocusing of HPI's mandate honors the institute's history while providing an exciting vision for future research."
While its expanded reach will encourage new partnerships and research outside of the Atlantic region, HPI will continue to address health issues facing Nova Scotians.
"Evidence-based research and collaboration must inform policy and how we can have a healthy province," said Nova Scotia Health and Wellness Minister Leo Glavine, who spoke at the celebration. "We need to consider the impact of income, education and other social determinants of health on how we create a healthier province.
Left to right: Lois Jackson, Scientific Director of HPI, Cheryl Kozey, Associate Dean of FHP, Leo Glavine, Minister of Health and Wellness, Maureen Summers, Chief Executive Officer of HPI, and Will Webster, Dean of FHP.
The institute is well positioned to tackle pressing health issues, in part through its partnerships. HPI has strong ties with community groups; active partnerships with government, the Nova Scotia Health Authority and the Nova Scotia Health Research Foundation; and renowned senior researchers, including Sara Kirk, Canada Research Chair in Health Services Research, and Michael Ungar, Canada Research Chair in Child, Family and Community Resilience .
With a roster of promising early career researchers, highly productive senior and associate researchers, accomplished postdoctoral fellows, and a growing number of graduate student associates joining its ranks each year, HPI is poised to make a contribution meaningful to our understanding and support the conditions for healthy populations and healthy lives for years to come.
For more information on the Healthy Populations Institute: dal.ca/hpi